Surrey LiDAR
LiDAR is not new to those working in the historic environment in Surrey, including the Historic Environment Record (HER), who consult Lidar almost every day when inputting and updating records, or answering queries from colleagues and customers, as it frequently helps to inform about the presence and extent of earthwork features. It is particularly effective when used in conjunction with field survey, and sometimes can reveal further earthworks or additional features that have been obscured by vegetation, or located in places that are difficult to access. To read more about some interesting case studies of its use, have a read of this informative blog by the HER team 'Having a field day with Lidar in the Surrey HER'.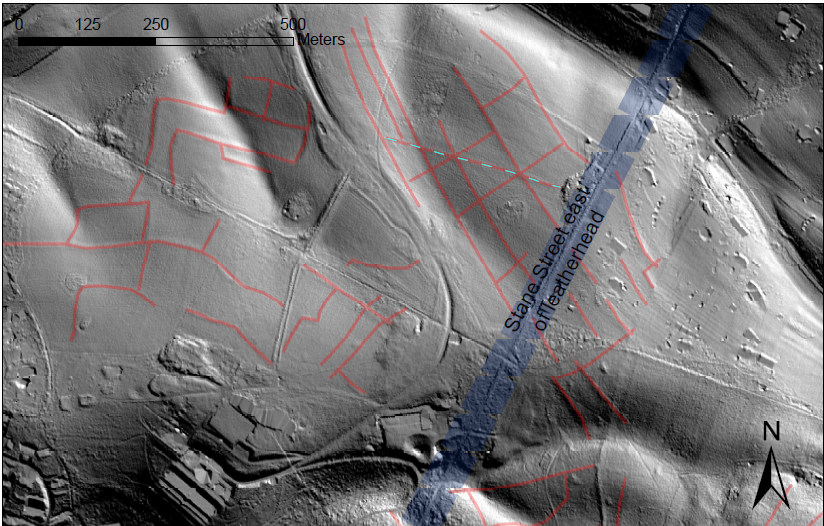 The Portal incorporates freely available open-source Environment Agency (EA) data. This is currently avilable for much of the county at 1m resolution, though a smaller coverage of almost 600km2 is availabe for the higher resolution 0.5m data, which the Portal currently presents. Both datasets are also available as a searchable open data map on LiDAR Finder, though they have not been visualised to the same standards. Only recently has the Environment Agency achieved full coverage of the country, allowing for the remaining gaps to be filled – we hope this may be added to the Portal at some point in due course.
A 0.25m dataset from the Darent Valley LiDAR survey, which incorporates a small area of East Surrey, was undertaken in January 2019 and is also available on the Surrey Portal. All data and imagery resulting from this survey are the copyright and property of Surrey County Council (KCC), though can be used for non-commercial research purposes with no restrictions on its use.
Please see our Terms of Use for full details on the datasets and images derived from them.
Surrey LiDAR Portal
The Surrey LiDAR Portal incorporates HEROS (Historic Environment Records Open System) software, an open source data management system, and owes considerably to Dr Rebecca Bennett of PTS Consultancy for the design and visualisations and Steve Smith for the software programming. Further modifications and developments to the portal design were devised by Dr Anne Sassin (Surrey Archaeological Society and Kent Downs AONB). The Surrey Portal is closely paralleled by the Kent LiDAR Portal, which was launched in May of 2020 and is managed and designed by the same team.
Many thanks are also due to the Historic Environment team at Surrey County Council and Surrey Heritage for shared use of historic maps and historic environment records, as well as J David Young for use of the Tithe and First Edition Ordnance Survey maps for the county.
Both portals are also based on and adapted from the original model built for the Beacons of the Past, another NLHF project. The Chilterns portal was envisaged and designed by Dr Ed Peveler and Dr Wendy Morrison of the Chilterns Conservation Board and built by Steve Smith of Go Studio, with initial testing conducted by project volunteers. The portal was launched in August 2019 and will be live for Citizen Science contributions and online viewing until December 2026 (so do venture onto the Chilterns site as well for a peek at more exciting LiDAR!)